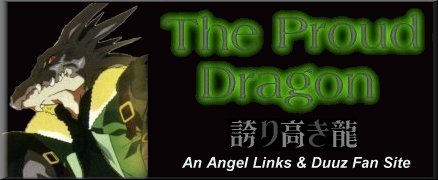 ---
Welcome to my little Angel Links fan site! This site is mainly about everyone's favorite Saurian, Duuz, but once in while, I will update with sections about the series in general, too.
I felt that Duuz was one of the more interesting & unique characters in the series and deserved a site of his own.


What is Angel Links?

Seihou Tenshi: Angel Links is a sci-fi anime series which was broadcasted in 1999 (4/7 - 6/30) on the WOWOW satellite channel in Japan. The premise is based on the Outlaw Star universe, though in a different sector of space.
Fans of Outlaw Star should check really this out!


News & Updates


1st February 2003 (Saturday)

- I recently managed to win an Angel Links pencil board off Ebay.
It's real nice, though the little phrase on it seemed kinda, er... *koff*.
Anyway, I've scanned it up for everyone to see.
You can find it in here (last page of the Images section).


26th May 2002 (Sunday)

- Wow, when was the last time I've updated...? I hope none of you have forgotten me. Anyway, during this time, I have received several e-mail from a few visitors commenting on my site. I would like to thank say 'thanks'; it really makes me feel appreciated. I am quite happy to know that there are more Duuz / Angel Links fans out there than I thought. :)




---

Mini-Poll

---

Legal & Miscellaneous Stuff
Angel Links is Copyright 1999 Morning Star, Sunrise.
"The Proud Dragon" is created & maintained by Yamikarasu (Kelvin Koh). All Rights Reserved.
All files & content on this website may not be duplicated or reproduced in any way.
*All information here are based on the Japanese version of the anime.*
This website was created on 14th January 2002.